I was just browsing the web and I happened to find a Great site for Kids of all ages, including us adults. Please check out the BlackDog Link below .you will really Like what you see.
Also for you Java lovers, Please check out the Captain Java Link. He has a great web site with all kinds of java Applets to view.
Tell him that sam9537 sent you
This site has the most Fantastic Oil's or Watercolors done by this Artist. Derek Mccrea.
Commissions welcomed
Please pay his site a visit.

WATERCOLOR PAINTINGS BY DEREK MCCREA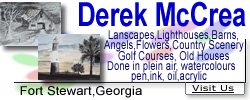 midi sites
Return to Home Page and Sign my Guest Book
This site was built and owned By

Copyright © 1999-2015 webmaster@samsworldofintrigue.com