Gentle Giant
Hello, My name is Sal and I am an Employee of PSE&G. These
pictures in the slide show below are of the Gentle Giant. The Gentle
Giant was a 380''''High and 254'''' in diameter steel structure that
weighed approximately 5 million pounds. Built in 1925 and was
located on PSE&G property in the Town of Harrison NJ. It was used
to store manufactured gas and held the equivalent of 15 million cubic
feet of manufactured gas. For years this Giant stood as a quiet
sentinel on the local horizon. Following the introduction of Natural
gas in PSE&G'S service area in the mid 1960's, the holder
assumed the role of holding supplemental manufactured gas that
was made for the times of peak usage. CDI (Controlled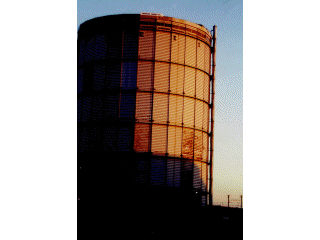 Demolition
Inc.) of Phoenix, Maryland and Mercer Wrecking Recycling Corp. of
Trenton NJ were hired to remove this holder. CDI has been felling
waterless gas holders for two decades. With each project, they have
been refining it's engineering and explosives approach to the
demolition of these structures, regardless of how much room was
actually available on any given site. Where space was limited CDI
used Linear charges to separate the roof elements in ridged gas
holders, designing air flow to permit the float-down of the roof to
grade. Due to the close proximity to the Path and Amtrak Rail lines
(approximately 50 feet), the implosion of the holder was the logical choice.
CDI used a total of 530 charges in 128 locations following
the preparation of the holder, and On Sunday Morning October 6,
1996, CDI detonated the charges in split second stages and the
holder came down, changing the local horizon forever. If you like this site you can send comments to the address below.
to sign My Guest Book
This site was Built and Owned By

Copyright © 1999-2018webmaster@samsworldofintrigue.com